STAFF MOBILITY FOR TRAINING (STT)
Not only academic but also administrative staff of a university with a Erasmus University Charter (EUC) can also benefit from the staff mobility training (STT) in an Erasmus partner university or in a business enterprise.
Staff Mobility for Staff Training (STT) is a field of activity that supports the professional development of HEI teaching and non-teaching staff in the form of training events abroad (excluding conferences) and job shadowing/observation periods/training at a partner HEI, or at another relevant organization in the program countries.
Staff mobility training (STT) includes three types of mobility:
The mobility of university staff member going to an enterprise and vice versa: The purpose of this type of mobility is to provide opportunity for the training of the participants through the transmittal of knowledge and experience. The basic activities are; seminars, workshops, courses and conferences, practice education processes, short-term assignments etc.The requirement of a partnership agreement is not required in case of business enterprise mobilities.
The mobility of the university executive and administrative staff going to another university: The purpose of this type of mobility is to provide opportunity for the participants to learn from another institution's experience and good implementations and to improve required talents for his/her current assignments. The basic activities are study visits, short term assignments and on the job training programs.
The mobility of academic staff going to another higher education institution to have training: Training periods can have a duration of 2 days - 2 months. Financial support is available for the academic staff to spend teaching periods abroad and for the university staff to have training at a university (there is no need for an Erasmus+ agreement between METU and the university; however the university must have an Erasmus University Charter) or at a business enterprise. Apart from the regular trainings, courses, internships are eligible (except for conferences and congresses).
STT is a full time activity and a grant payment is made for full-time training days. For this reason, in the Staff Mobility for Training Mobility Agreement a specific training program must be indicated on a daily-basis
Duration of the Activities
From 2 days (5 days from and to Partner Countries) to 2 months, excluding travel time. But, in order to provide mobility opportunity for higher number of staff, the maximum duration of the mobility period for STT is limited to 5 days (excluding travel time) by METU Exchange Programs Commission. If the training activity lasts less than 2 days, the activity is considered as void and the grant payment is not made for the related activity.
 Application
Applications are received once a year for the following academic year. The instructions about the applications of following year are announced in our Office website.
Application period:  TBA (Please check your e-mails and our website regularly, and make sure your receive e-mails from idarihareketlilik[at]metu.edu.tr)
Application Criteria
- English Proficiency of minimum: KPDS / YDS: 70 (Level C), TOEFL IBT: 75, IELTS: 6.0, İYS: 59,5
or graduation from a university where the language of instruction is English.
- Certificate of advanced level from the training courses organized for administrative personnel 
- An English Proficiency Exam will be organized for administrative staff after the application period (minimum 60 is needed for application)
Special Conditions
Research assistants employed under the law number 2547 article 50, are not eligible. However, the ones employed under the article 33 may apply.
Selection Criteria
Selection criteria for teaching mobility can be seen in the attached document:
Erasmus Grants
For the 2018-2019 Grant Amounts and the calculation method please see the attached document here.
Project Year: 2019
Hayat pahalılığına Göre Ülke grupları

Hareketlilikte Misafir Olunan Ülkeler

Günlük Hibe Miktarları

 

1. Grup Program

Ülkeleri

Birleşik Krallık, Danimarka, Finlandiya, İrlanda, İsveç, İzlanda, Lihtenştayn, Lüksemburg, Norveç

     153 Avro

2. Grup Program

Ülkeleri

Almanya, Avusturya, Belçika, Fransa, Güney Kıbrıs, Hollanda, İspanya, İtalya, Malta, Portekiz,Yunanistan

      136 Avro

3. Grup Program

Ülkeleri

Bulgaristan, Çek Cumhuriyeti, Letonya, Makedonya, Polonya, Slovakya, Estonya, Macaristan, Hırvatistan,, Litvanya, Slovenya

        119 Avro
Distance Calculator:
http://ec.europa.eu/programmes/erasmus-plus/tools/distance_en.htm
This distance calculator is designed for organisations taking part in the Erasmus+ Programme to calculate travel distances for grant support to individuals. Based on the distance expressed in km, the corresponding distance band must be chosen in the application and report forms.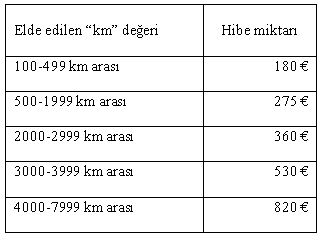 Erasmus Staff Mobility Without Grant (Zero Grant)
It is possible to participate in Erasmus staff mobility programme without grant. Those staff who would like to participate in the programme without grant need to make application and their applications need to be evaluated as the others. Those participants with zero grant have to fulfill rights and obligations of the program.
Required Documents 
Before the Mobility
Official Invitation Letter (signed and stamped by the receiving institution) 
After the Mobility
Certificate of Attendance (original document confirmed by the receiving institution)
Plane Ticket / Boarding Pass
EU Survey (to be sent by ICO)
ANNOUNCEMENTS FOR INTERNATIONAL STAFF TRAINING WEEKS:
Staff Mobility Online Platform (where you can search for staff weeks around Europe)
This platform, organised by IMOTION, aims to centralise information about staff training events organised in Europe in order to provide easy access to the information. The platform will help Higher Education Institutions with the promotion of staff training events, it will help those organising job shadowing to find appropriate people and also enable staff to find the appropriate training or job shadowing they are looking for.