Important Information Regarding Covid Vaccination
How can Erasmus Students get vaccinated in Turkey?
If you are registered in Turkey and reside in Turkey legally, you will be able to receive the vaccine free of charge through the Ministry of Health. To check if you are considered eligible to get the vaccine, you need to log into e-nabiz. If you have never used e-nabiz, you need to log into e-devlet platform first.
How can you enter the e-devlet platform?
To do that, you have to have your residence permit card. On the card you will see the Foreign ID number, generally starting with 99. If you do not have your card yet, you can still find out your Foreign ID number by visiting https://tckimlik.nvi.gov.tr/ Make an inquiry by either entering your Residence Permit Number (İkamet Tezkere no.: the number on the first page of your Residence Permit, e.g. 1-112233), or your personal information.
To be able to benefit from the services offered through the e-Government Gateway, you have to apply to PTT Centers together with residence permit paper bearing your Foreigner number.
After you receive your e-Government password, you can check if you are eligible for vaccination on e-nabız. First enter e-nabiz system https://enabiz.gov.tr/ then click to Register through e-Government and enter.
Then check if you are considered eligible for vaccination, you should be able to make an appointment through MHRS (Merkezi Hekim Randevu Sistemi – Central Physician Appointment System) using your e-devlet log-in information. Alternatively, you may make an appointment by calling 182 (MHRS). In case the appointment system does not work, you should approach the District/Province Directorate of Health to seek support.
Health Insurance
Students must have their own health insurance valid in Turkey. Students must obtain a health insurance covering the minimums indicated below: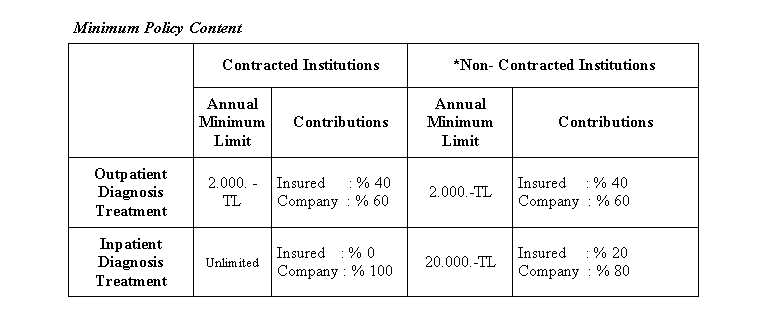 Using Medical Services at METU
Exchange students can apply to Medical Center their health problems. Within the frame of facilities and legislation, examination and treatment of students are conducted in the center.
In situations requiring further examination and treatment, the student may be directed to another hospital. There are many state and private hospitals around METU and all around the city.
The medical doctors at the center consult their patients from 9:00 to 12:00 and from 13:30 to 16:00 p.m, Monday to Friday.
For other services hours may change.
For some services, such as psychological guidance, you should get an appointment.
Emergency service is available 24 hours a day.
 Procedures to be followed at the Medical Center:
In the first step, you should take queue number from one of the kiosks located on the ground floor of the Center with your Student ID Card.
You should approach to the Patient Reception desk as soon as your queue number appears on the monitor.
A small ticket will be presented to you indicating the name of the doctor and your waiting line number at the Patient Reception desk.
You can enter the doctor's office when it is your turn.
According to your complaints and needs the doctor will guide you through the medical procedures.
The doctor can request laboratory test online through the EMR (Electronic Medical Records) system. On the next step, you should apply to the Laboratory with your ID number. The laboratory is located across from the main building of the Medical Center.
The doctor may request a radiological imaging. You should apply to the Radiology Unit which is on the ground floor of B Block with your ID number.
The doctor may request a test (such as electrocardiography, ECG) from First Aid Unit which is on the ground floor of C Block.
The doctor needs your results for the treatment. If you get the results on the same day, you should go to your doctor without any extra procedure. However, if you get the results a few days later, then you need to apply to the desk and make the officer send your name to doctor via EMR software.
If a prescription is prepared, it will be printed out; signed and handed to you by the doctor. You should take "End Process (Sonlandırma)" number from kiosk to get your prescription stamped and obtain other necessary print outs.
Information about medical reports:
 Students may miss their classess, exams etc. In order to take make up exams or to finish their incomplete tasks, they should get a medical report. For this medical report to be valid, it must be approved by the Medical Center.
 Medical reports obtained from private doctors' offices are not accepted.
 If students get medical reports from other medical facilities at weekends or in emergency cases when on holiday, they must have their reports approved within three workdays. Otherwise reports are invalid. Apart from official holidays and the periods that the university is closed, medical reports obtained from medical facilities outside Ankara are not approved.
 For more information, please see the guideline, here.
Medical Center Contact Info:
Phone: (312) 210 49 68
Emergency Hotline: (312) 210 49 60
Ambulance Call Center: (312) 210 41 42
Safety
Students choosing to study in Turkey will find people friendly and helpful towards visitors. It is a safe country; students can travel safely within most parts of Turkey. Though travel is safe, some common sense precautions should be taken. Hitchhiking is not always safe. Students should not carry large sums of money and should keep passports in a safe place. Students are required to get a residence permit that should be carried at all times.
Ankara is a particularly safe city with almost no violent crime and very little petty crime. Students, both women and men, can move about Ankara and most large cities in Turkey both day and night but should know, that as in all big cities, certain districts may not be safe at night . There is an active nightlife in Ankara suited for university students, which you will often go in groups or couples.
The main safety concern in Turkey is traffic. Turkey has a high rate of traffic accidents. Students must take more precautions in crossing streets and care is necessary even when pedestrians have the right-of-way.
Driving under the influence of alcohol may occur rarely although police is making more efforts at control. Students should not accept a ride from a friend who has been drinking.
a. Personal Safety
Issues of personal safety are covered during the orientation program. Students are given information about the city of Ankara, specifically which districts are safe, where students may go at night and safety tips about city transportation.
Students are urged to take precautions about personal belongings as they would at home. Students staying in the dormitories have a place where they can lock valuables including passports. They should not carry about large sums of money.
Transportation within cities is adequate and inexpensive. Inter-city bus service is good, safe and also relatively inexpensive. However, we advise students to use bus companies with better traffic records. Each time students can ask advice at the SAO in relation to your forthcoming trip.
b. Health Issues
As all Exchange/Erasmus+/Mevlana students coming to Turkey travel outside Ankara and Istanbul sometimes during their stay, we advise them to have standard required of all university students. Students are advised to drink bottled water particularly outside Ankara. Restaurants are graded in Turkey according to the type of service and eating space. Eating in restaurants of all classes is generally safe as long as freshly cooked dishes are eaten. If you have any health problem relating food, you are advised to visit METU's Medical Center. Students can call ICO staff, in case of serious health problems or case of emergency.
Over exposure to sun and dehydration should be guarded against in the summer particularly in the Southern regions of Turkey. Wearing hats are advised when touring during the summer.
Medical service in Ankara is good. METU has a fully staffed Medical Center on campus that provides for emergency needs as well as for minor health problems. Students are given emergency telephone numbers to use in case of illness or accidents while outside Ankara.
c. Natural Disasters
A major earthquake fault runs east to west through Turkey and smaller faults are found in the Southwest and Southern parts. While earthquakes are not expected in central Ankara, tremors can be felt. Since the major earthquake in the Istanbul region in August 1999, the disaster management procedures in Turkey have improved. Flooding may occur with heavy rains in some parts of Turkey and can be dangerous for travelers. However, there is always ample warning and travel restrictions to such areas are enforced at such times.
d. Drugs/Alcohol
Students are advised that possession/use of drugs is strictly prohibited by law in Turkey.
 The drinking age in Turkey is 18. Students not used to drinking should be aware of this rule. It is against METU regulations to drink in campus dormitories and on campus.
e. Political issues
 Demonstrations by various groups are held periodically in Ankara and Istanbul, always in specific locations. Students should not get involved in such demonstrations and in fact should avoid these locations during time of demonstrations.
f. Social/Psychological Stresses
 Most foreign students at METU report having great experiences. Turkish students are warm and friendly. It is easy to fit in with some group. Initially, however, students may experience some challenges because of language. Outside the classroom and except with friends, Turkish is spoken. Students who learn survival Turkish as quickly as possible feel less frustration. Students faced with some bureaucratic barriers plus difficulty in communication may experience considerable stress. The International Cooperations Office anticipates many of the bureaucratic requirements and provides assistance. The best policy is to know what the bureaucratic expectations are and regardless of how needless they may seem, follow the procedures exactly.