Application Procedures
Please note that this application is NOT for Erasmus+ with European Countries.
Each academic year towards the end of the fall semester, METU ICO opens application calls for outgoing students in line with the available quotas and destinations. Please check our website 
announcements
 frequently for further information.
The application period for 2020-2021 Academic Year will be held between 4-29 November, 2019.
The English Proficiency Exam for Erasmus+ Program with Non-European Countries and Overseas Exchange Program will be held on December 7, 2019.
Application Criteria
Students can apply for Erasmus+ Non-European Exchange Program (KA107 International Credit Mobility – ICM) only if:
- CGPA is at least 2.50 as of the application deadline (undergraduate level)
- CGPA is at least 3.00 as of the application deadline (graduate level)
Please bear in mind that students:
-Should have METU course load of minimum 30 ECTS for the semester in which s/he plans to participate Erasmus Programme. Those MSc and PhD students who completed their course load and in thesis period can also apply as their thesis satisfies the ECTS requirement.
-Should take 30 ECTS course/or 5 courses (when the host university does not use ECTS) at the host university.
-Make sure that 30 ECTS courses will be recognized by their departments upon successfully completion.
Application Procedures
Students must submit their application online between the determined deadlines: ONLINE APPLICATION PLATFORM, Program No:405
It is obligatory to take English Proficiency Exam for Exchange Programs (EPEEP) for ICM applicants. No additional application is required for the EPEEP.
Students are allowed to take the EPEEP only once every academic year and those who have already taken the EPEEP in the same academic year for another exchange program will not be able to take the exam again.
The exam is organized by the Department of Basic English. Students who are not able to enter the exam due to a valid excuse should submit a petition explaining their excuse to the International Cooperations Office. Otherwise, their Erasmus application will be regarded as invalid.
Only the students who submit their application to ICO will take the exam and the place of the exam will be announced later.
Partner Universities
Applicants must make their university preferences by consulting their departmental exchange program coordinators.
List of partner universities and country quotas can be seen in the announcements section for each call.
Students must make sure that their departments and academic levels exist in the host universities.
Selection Criteria:
CGPA and EPEEP score are taken into account in electing prospective ICM students. Weighted CGPA is calculated for ach applicant depending on the average CGPA in his/her departmental cohort.
In order to calculate the 50% of the CGPA, a coefficient is applied on the CGPA according to the applicants' department and semester information as below:
Student CGPA: 3.15
Average CGPA of the same department & semester: 2.89
Ratio: 3.15 / 2.89 = 1.09
25(*) + 1.09=26.09
Overall Score: 3.15 x 26.09 = 82.18
(*) the convergent factor to calculate 50% of the CGPA = 25
Applicants with disabilities (approved by medical report) get 10 additional points. Medical reports concerning their diasbility must be submitted to International Cooperations Office (ICO) before the application deadline.
It is possible to benefit from the Erasmus+ Programs (Erasmus European Study, Erasmus Traineeship, Erasmus+ Non-European ICM) more than once. Students can participate in the programs up to 12 months for each level of study (UG, MSc, PhD).10 points will be deduced from the overall grade of the students who have benefited from any of the above programs before within the same study level. Previous participation in the program in different study levels does not cause any deduction in the overall grade.
10 points will be deduced from the overall grade of the students who have withdrawn from the program after the announced deadline for the previous Erasmus+ Program Applications.
10 points will be added to the overall score of the students who have been under protection by 2828 Social Services Law.
15 points will be added to the overall score of the students who are  the childrens of martyries and veterans.
 
Grant Conditions
Students selected for this program with grant will receive 700 Euro per month and also travel support ranging from 275-1500 Euro according to distance between Ankara and the city that they will study.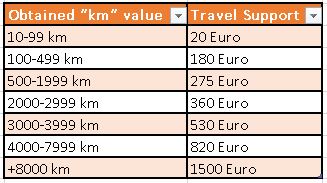 For each application announcement, availablility of grant is announced in terms of country.
It is possible to participate in the program without grant as well.
Students with disabilities can apply for additional funds if they are placed for a university.
Info Sheet ERASMUS+ ICM
For more information about the program please read our latest INFO SHEET Turkish in and in English.